Live Up Anti-burst Fitness balls
are....
One of the best tools for strengthening your core muscles. This refers to the muscles from your chest, down into your pelvis and encompasses all abdominal muscles.
An exercise ball, when sized properly, makes for an active chair when sitting at a desk. You should be able to sit with your knees at a right angle and your thighs parallel to the ground. Aside from keeping your core engaged, replacing your seat with a ball will help your posture.
It can be used in the office, at the gym or at home; basic exercises like sit-ups or push-ups become much more challenging and effective.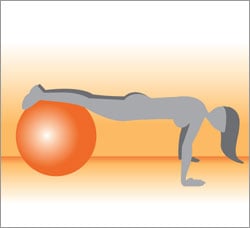 You need to buy the correct size ball for your height. The diameter of the ball makes all the difference - size does matter. When lying down, the size of the ball affects the position of your back and pelvis. A 65cm ball suits someone approximately 162-175cm tall. This is currently the only size we have in stock.
They are made of eco-friendly PVC - ensuring the product is nontoxic and can be safe for children to use. Anti-burst improves the strength of the product.
The ball is suitable for family, backyard, school ground, play centre, sports centre, amusement park and swimming pool.
A 65cm ball suits someone approximately 162-175cm tall. The balls come in a vibrant orange colour and has a hand pump included. 
To reduce packaging the box may not be included.